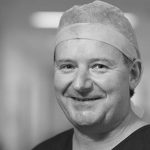 MB ChB FRCS (Eng) FRACS (Orth) | AMS WIA GEPI | Orthopaedic Surgeon
Consultation Waiting Time: Appointments available 7-14 days in advance.
Report Turn Around Time: Less than 7 days, urgent reports available on request.
Sample Report: Contact us today for a for sample report.
Locations Available: Brisbane and Sydney.
Video assessments: Any regional area in NSW and Queensland.
Call 02 8090 7611 to book Dr English today.
Current Positions and Affiliations:
Fellow of the Royal Society of Medicine
Fellow of the Australian Orthopaedic Association
Fellow of the British Orthopaedic Association
Member of the Australian Medical Association
Member of the Australian Arthroplasty Society
Member of the International Society of Hip Arthroscopy
Honorary Senior Lecturer, University of QLD
Certified Independent Medical Examiner
Approved Medical Specialist for WCC (NSW)
Dr Hugh English is our Hip, Knee, Foot, Ankle & Trauma surgeon.
Hugh is U.K. born and educated, and moved to Brisbane in 1990, completing his Orthopaedic training here.
He is the 6th generation Doctor in his family to have attended the same Scottish medical school (St. Andrews/Dundee) and a second generation Orthopaedic surgeon.
Dr English has undertaken extensive training both locally in Australia and overseas. His practice has a strong focus on patients with hip and knee concerns, in particular, reconstructive surgery of the hip and knee and arthritis.
Dr English runs a hip and knee clinic at the Brisbane Orthopaedic Specialist rooms in conjunction with an Orthopaedic Clinical Nurse to provide ongoing management of orthopaedic conditions; pre-theatre admission information sessions to ensure the best outcomes post surgery for all of his patients. Dr English has published and presented extensively and is involved in ongoing research of patients particularly with hip and knee orthopaedic conditions.
Available in Sydney and Brisbane and for Video Assessments for Regional areas of NSW and Queensland.
Call 02 8090 7611 to book Dr English today for your trusted and reliable, court ready Medico-Legal report delivered time efficiently.